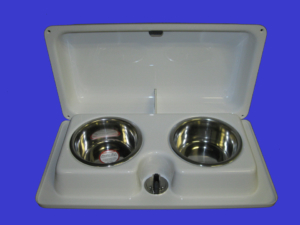 Continuing SSI's long history of developing new and innovative products, we are proud to announce the addition of the Pet Dinette!
We take our pets with us too when we head out on the water or to our favorite getaway!
*The Pet Dinette is an exclusive SSI slimline design that stores your pet's food and water bowls without consuming valuable storage space.
* The Pet Dinette comes in two sizes for small or large pets, 1 pint bowls or 1 quart bowls.
*The Pet Dinette features bowls that are easy to clean stainless steel and are easily removable.
* The Pet Dinette closes securely to keep your pet's feeding station out of the way and out of view.
* The Pet Dinette is made from UV protected, high durability materials for extra-long service life.
* The Pet Dinette is easy to install in boats, campers and RV's, trailers, cabins, even homes.
1 pint size bowls– part number 692-8001100
10.25"h x 18"w x 2.7"deep and requires a 9.2" x 16.1" cutout.
1 quart size bowls– part number 692-8002100
11.5"h x 20.5"w x 3.2"deep and requires a 10.5" x 18.8" cutout.
SSI is a leader in custom thermoformed plastics, providing low to high volume production and assembly services using 13 forming machines and 11 5-axis CNC routing centers. We can desing and produce parts from solidworks models, samples, or reverse eengineering. Our in-house engineering and mold making abilities allow us to turn your project into parts in weeks – not months.! Contact SSI for all of your plastic forming needs !